RV Makeovers: The Hottest Trend in RVing
Tuesday, January 09 2007 @ 06:41 pm UTC

Views: 20,044
RV Makeovers: The Hottest Trend in RVing. If there's one thing RVers enjoy as much as traveling – it's improving and enhancing their RVs. With an estimated 30 million RV enthusiasts in the U.S., more people than ever are taking steps to ensure that their RV reflects their lifestyle as well as their personal tastes.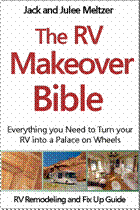 For some RVers, this means improving the functional aspects of their RV such as adding more storage capacity, increasing kitchen counter space, upgrading appliances, and installing modern technology. For others, their plans involve cosmetic changes like new upholstery, upgraded flooring, nicer window treatments, and improved lighting.
In fact, fixing up and accessorizing RVs has become so widespread, it is currently the leading topic of discussion on every RV forum. As a result, there is a growing demand for relevant information and professional advice on revitalizing older RVs, upgrading interiors, adding more storage, and selecting accessories.
In response, Desert Winds Press is pleased to announce the release of The RV Makeover Bible – the first book to focus on the exciting and rewarding process of remodeling and upgrading RVs. With over 300 pages and more than 325 photos and illustrations, The RV Makeover Bible includes everything you need to obtain the features, the accessories, and the look that RVers have always wanted.
Based on numerous remodeling projects and more than two years of research, interviews, and information gathering, The RV Makeover Bible covers every square inch of an RV's interior. Whether enhancing a new RV or refurbishing an older model – this comprehensive guide will walk readers through every step of the process. The RV Makeover Bible is currently available at www.desertwindspress.com.
About the Authors
Jack and Julee Meltzer are full-time RVers and occasional campground hosts that travel throughout the United States in a 34-foot motorhome. They share their RV with two German Shepard dogs and three adopted cats. Much of their time is spent writing and researching information for their upcoming books. Their best-selling book, Camping and RVing with Dogs, is now the leading directory of pet-friendly parks and campgroun