6 Dogs & 4 Humans Take An RV Ride From PA To AZ
Wednesday, October 25 2006 @ 02:39 pm EDT
6 Dogs & 4 Humans Take An RV Ride From PA To AZ, To Compete in the "Olympics" of Dog Agility...
Pennsylvania Residents Compete At National Dog Agility Competition
An RV Ride With Four Humans And Six Dogs To Compete In The
United States Dog Agility Association (USDAA) World CYNOSPORT Games
Scottsdale, Arizona, November 1 to 5, 2006.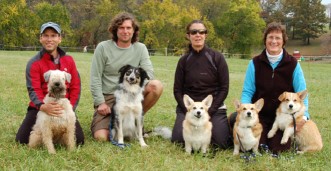 Cliff Anderson and Sammy, Barry Long and Casey, Sandi Schillings-Daniels and Katie, and Anne Hopewith Dylan and Rosie.
Photo by John Hope, taken October 21st at the Fair Hill, MD competition.
Landenberg, PA-- At 6 am on Friday, October 27th, six dogs and four humans will leave from Wheaten Hill in Landenberg on an RV trip to the United States Dog Agility Association's (USDAA) World CYNOSPORT Games, the dog agility national competition.
Franklin Township (PA) resident Cliff Anderson's RV will be the temporary home on the long trek to Arizona for these human and canine competitors, the first national competition for each of them. The participants have been busy preparing the RV and stocking it with all of the necessary supplies. Bruce Wilhelm, of New Garden's Wilhelm's Service has completely replaced the brakes, tires and other parts to make the trip as safe as possible.
The USDAA CYNOSPORT Games are the "Olympics" in the world of dog sports. It features the best of the best in dog agility, flying disc, flyball, terrier racing and dock-diving. It is held at West World in Scottsdale, AZ, November 1 – 5, 2006. The headliner for the World CYNOSPORT Games is USDAA's Grand Prix of Dog Agility® World Championships and $10,000 Dog Agility Steeplechase®. The Games are expected to draw more than 1,000 of the world's leading competitors from the United States, Japan, South Africa, Russia, Mexico, Guatemala, Puerto Rico, Canada and Spain. Past competitors have included former Olympic Diving Gold Medalist Greg Louganis, who competed with his Jack Russell Terriers. For more information: http://www.usdaa.com/events.cfm.
These four human participants, Cliff Anderson of Franklin Twp., Barry Long of LancasterCounty, Sandi Schillings-Daniels of New London Twp., and Anne Hopeof West Bradford Twp., are all members of the Flexible Flyers Dog Agility Club (www.flexibleflyersagility.com) in Honey Brook, PA. The club, founded by Mary Lou Hughes and Barbara DeMascio provides agility lessons and offers two trials each year.
Cliff Anderson is Vice President and Chief IT Architect for the corporate sector at JPMorganChase. He has trained with Sandi Schillings-Daniels, and has competed with his four year old Soft Coated Wheaten Terrier, Sammy, since 2004. Sammy has earned her Performance Dog II title, and is currently the number two ranked Wheaten in USDAA agility in the country. Cliff also competes with his two year old Wheaten, Tucker, currently ranked number nine. Cliff participated in animal rescue in the Gulf region after Hurricane Katrina, and it was on that trip that the RV this group will take was nearly totaled; repairs were completed just in August. With his partner, Mark Ungemach, Cliff also breeds Wheaten Terriers, is active with the Wheatens In Need (www.wheatenrescue.org) rescue and with the Delaware Humane Association (www.dehumane.org), and is training four more dogs (two one year old Wheatens, a rescued Briard-mix, and a Border Collie puppy) to compete. He will take his seven month old Border Collie, Lockeye Zaney Brainy, along for the trip.
Lancaster County resident Barry Long and his wife share their home with three adopted All American dogs and five adopted cats. Barry is an electrical contractor and co-owner of a plant nursery. He has been competing in USDAA since 1996 with his eleven year old female, Phoebe (who has earned her ADCH title), and his nine year old male, Reggie (who has earned his MAD title). Barry will compete in Arizona with his three year old female, Casey, who loves to swim and worship Reggie and Phoebe almost as much as she loves agility. Casey has earned her Masters Agility Dog, Masters Gamblers, Masters Relay and Masters Standards titles.
Sandi Schillings-Daniels and her husband Richard are natives of Kennett Twp. and Greenville, DE, respectively, and live in New London Twp. Sandi is considered to be one of the region's best dog agility trainers, and she has trained hundreds of dogs and their handlers. Sandi and her husband are active with the Corgi rescue, and they share their home with three Pembroke Welsh Corgi's. Sandi will compete with her female Corgi, Katie.
West Bradford resident Anne Hope will compete with her two dogs, Dylan, a 6 year old Pembroke Welsh Corgi, and Rosie a 3 year old Pembroke Welsh Corgi. Dylan has her Performance Dog Three title from U.S.D.A.A., as well as her MXP and AJP in AKC; as well as her CGC and TDI titles, Rosie has her Advanced Agility Dog title, and her AX, and OJ titles in AKC.
A certified Veterinary Technician working at the University of Pennsylvania's New Bolton Center (the Large Animal Hospital of the Veterinary School), Ms Hope first learned about dog agility when she took her dogs to obedience classes with Susan Greenholt. Anne has been competing in agility since 2002, when she first started taking lessons at Flexible Flyers Agility with Barb DeMascio. Anne currently trains with Sandi Shilling-Daniels. Anne's husband John will fly out to Arizona for a few days. Anne has two grown children, Tom and Katie.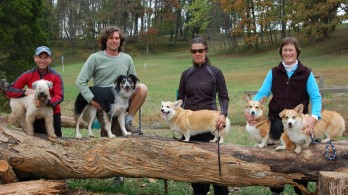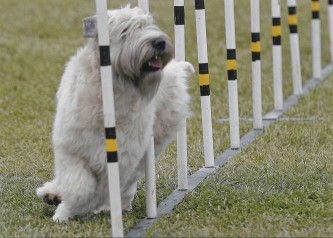 Track the group's progress and ask questions on their blog: http://www.awiggleandawag.com.
For more information, contact Mark Ungemach at 302-530-9851, 610-268-5701 and marku@ungemach.com, or Cliff Anderson at 917-825-5693.