Fun Town Opens Conroe
Tuesday, September 03 2019 @ 08:56 am
Views: 3,215
Posted in Press Releases
---

Fun Town RV Announces the opening of their 11th Dealership in Conroe, Texas.
Fun Town RV, the Nation's Number One Towable Dealer and Proud Partner of the Dallas Cowboys, has announced the location of its newest dealership.
The 11th store in the Cleburne headquartered RV retail chain will be in Conroe, Texas at 1505 Porter Road between TX-105 and South Loop 336.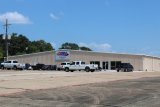 Conroe will be the second store in the greater Houston area and will complement its Wharton,TX sister in both product offerings and services. A 60,000 square foot climate-controlled showroom will be a major highlight of the new facility. (Shown Below)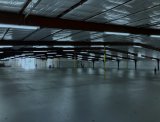 "The ability to take your time and shop in comfort was a driving factor in choosing this location," said Jarrod McGhee CEO and Owner of Fun Town RV. "An RV i s a major purchase for most families. The last thing we want i s for them to do i s to rush out of a hot camper that has been baking i n the Texas sun without truly determining i f i t i s right for them. Our showroom will allow us to showcase units i n an air-conditioned climate-controlled environment, greatly enhancing the consumers' shopping experience."
Houston Area General Manager for Fun Town RV Joe Grossen added, "We pride ourselves i n delivering a shopping experience that i s next to none. Buying an RV i s a very personal thing, and no two families have the same needs. Our no-rush, no-pressure sales consultants will take the time to make sure your purchase i s not only right for today but will be right as your family grows and changes."
The new Conroe's location will allow Fun Town RV to offer even better service to the consumers in the Greater Houston area.
"According to Statistical Surveys, Fun Town RV sells 10% of Towable RVs i n the Houston BTA over the last couple of years. I predict that number will at l east double i n the next two years. In fact, I would be disappointed i f we don't reach 25% of the Houston BTA by the end of 2020" McGhee continued.
"We have some hefty goals but I am confident that our team can deliver," Grossen points out.
The grand opening i s scheduled for the weekend of October 12th and will feature a kick-off sale in true Fun Town RV style.

McGhee states, "If you haven't shopped a Fun Town RV sale before, then you are missing out. We have a better selection, better products, and better pricing than any other dealer i n Texas. Add to that the desire to make sure every sale visitor takes home a camp-ready RV and with an
unbeatable deal."
"I'm fortunate because Jarrod has empowered me to take and make deals during our Grand Opening that would make most owner's heads spin," Grossen stated. "We aim to make a big splash with this new location and the best way to do that i s to make a bunch of Houston area
families RV dreams come true."
This will be the 3rd RV Dealership Fun Town RV has opened i n the last 14 months joining Fun Town RV Tyler and Fun Town RV at WinStar. In addition to the opening of the three sales facilities, the last 14 months has seen the group expand to include a PDI facility i n Elkhart,
Indiana and a Customer Care / Service Mega Center i n Cleburne. The latter offers same day service for Fun Town RV Customers, which is unheard of in the RV Industry.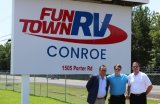 "Our stores, especially Wharton, have proven there i s a huge demand for Fun Town in the Greater Houston Area," McGhee concludes. "Houston RVers are tired of feeling like they have been over-promised and under-delivered by the established Houston RV Dealership community. I will be opening a second Mega Service Center and RV storage complex in the Houston market, offering same-day service and concierge storage & maintenance i n the coming year. We are just getting started, you haven't seen anything yet" McGhee said.

Fun Town RV i s the nation's #1 single location towable RV Dealer located i n Cleburne, Texas, according to Statistical Surveys. They have eight additional locations i n Texas: Cleburne, Dallas (Rockwall) Denton, Giddings, Houston (Wharton), San Angelo, Tyler (Mineola), Waco,
and two locations i n Oklahoma: Purcell and at the WinStar World Casino and Resort i n Thackerville, OK.

If you would like more information about this topic, please call Kyle Perry / Chandler
McGhee at 817-645-8100___, or email socialmedia@funtownrv.com