Important Tips for Shipping An RV
Important Tips for Shipping An RV
Tuesday, August 14 2018 @ 03:19 pm
Views: 440
Posted in RV Service
---
Important Tips for Shipping An RV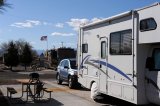 Owning an RV is a great way to hit the road and explore the beauty and amazing sites across the country. They're ideal for travel whether it's hot or cold outside and they can make going where you want to go an exciting time when you can just hop behind a wheel and change the scenery anytime you choose. Who wouldn't enjoy watching the sun set over the ocean in the evening and waking up to the sun rise over the mountains in the morning? RV travel and seasonal camping has become a popular trend for retirees and families who want to travel in comfort.
While road trips in an RV are fun, there may also come a time when it's necessary to have the RV shipped ahead of you so you can reach an area faster than you would if you drove or to help save a little wear and tear on the RV itself so it will be in tip top condition for travel in the areas you want to venture into. For instance, for many people who want to road trip down the Pacific Coast Highway through California or see Joshua Tree or the beautiful California redwoods, but they currently live on the east coast or in the southern U.S. and have a set amount of time to vacation or travel, there may not be time to drive to the other coast.
Shipping in situations such as this are viable options to be able to see the great sites on the west coast while saving on fuel and extra maintenance costs on the RV and having time to enjoy the set number of days allowed for vacationing. Shipping is also necessary at times for RV repair or maintenance or if you purchase an RV from a dealer or individual a far distance from home and need to have it delivered.
When it comes to shipping an RV, it's possible to have the shipment handled by an individual who may be heading towards your home and can haul it along with them, but for safety measures, it is best to have a professional RV transporter handle the transport to ensure the RV will remain intact and in the good condition you expect it to be in upon delivery.
Figuring Out the Cost of RV Shipping
According to A-1 Auto Transport, a company that has handled auto transport and RV transport for more than 20 years, the best way to have an RV shipped is with open air service. This means that the RV will be loaded onto a flatbed trailer or it will be hauled by a freight truck to the delivery destination. Sure, you can opt to ship your RV inside a large container, or enclosed trailer, but open-air service is going to be the cheapest way to have it shipped.
Cost is going to vary based on a few things. First, the distance to and from the pickup and delivery locations. Mileage is directly related to fuel cost, and the actual cost of fuel at the time of shipment will help determine the overall cost. The height, weight and dimensions will also help determine the cost and so will the type of RV you need shipped. Pricing may also be affected by the season you are shipping. For instance, summer months are often busy times of the year for RV and auto transport and during those months the cost could be lower than it would be in the fall when travel, and transport begins to slow for the year. During the winter when transport is at its lowest, you might find some good deals for snowbird, or winter seasonal transport from November until March especially if you need to have your RV shipped from a cold climate to a warm climate and want to schedule a return shipment in advance. Weather makes a difference in price when shipping an RV or other motor vehicle.
The best way to get a price on RV shipping is to either fill out a quote form or to call a professional RV transporter directly and provide the information needed for the agent to give you an accurate price for having it shipped.
Is Your RV Ready for Transport?
It's important to follow some simple guidelines for preparing an RV for shipment to keep them safe during shipment. These preparation tips are good for long distance or even overseas RV transport.
Interior of the RV
Unplug/disconnect all electrical appliances including televisions, radios and stoves.

Lock all windows and cabinets inside with a lock or with duct tape to ensure they won't fly open during transport.

Make sure all loose items including dishes/glasses and other goods that can fly around are secured and in place.
Exterior of the RV
Check lighting to make sure the brake lights/flashers work.

Secure all windows and doors.

Remove or roll up awnings.

Check the tires for cracks/punctures and dry rot as well as to make sure tread is good.

Check the brakes to ensure they are working properly.
Have a spare set of keys made for the transport driver and have your contact information written down to provide when the RV is picked up. Include emergency numbers in case they cannot reach you. Take photos of the RV from all sides prior to it being loaded onto the trailer/truck and keep the photo files until the RV is delivered. Check over all your paperwork from the shipping company including insurance coverage and any transport agreements.
One of the most important things to consider about having an RV shipped is to make sure you hire the right company for the work at hand. If you need to hire a contractor to repair a roof or add a room addition onto your home, you're going to take time to ask questions, check license and insurance and even check reviews to make sure they are qualified for the task you need done. The same goes for RV shipping. Ask questions and get to know who the company is, their experience with RV transport and their licensing and insurance. Check online to see reviews from customers to see how they feel about them, and when you feel comfortable, hire only the best!